Elżbieta Szeląg-Wasielewska
e-mail: eszelag-at-amu.edu.pl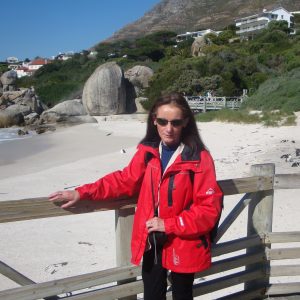 Phone (+48) 61 829 5781
Office: 0.068 (ground floor)
 Research interest
– Occurrence and ecology of autotrophic picoplankton in freshwater ecosystems
– Relationships within the microbial food web
– Biotop-biocenosis relations in the lake ecosystem
– Phytoplankton in bioindication of lakes
– Protection and assessment of water quality
Curriculum vitae:
Scientific development
– 2009-2010: Post-graduate studies "Research Projects Manager" at the Faculty of Physics, Adam Mickiewicz University in Poznań,
– 2008: Habilitation in the field of biology – hydrobiology "Autotrophic picoplankton in water bodies in western Poland: distribution, structure and role in the microbial food web",
– 1987: Doctor of natural sciences in the field of botany "Dynamics of algae communities in plankton of Strzeszyńskie Lake and reservoir Rusałka", supervisor Professor Iwo Wojciechowski,
– 1977-1981: PhD student in the Institute of Applied Biology, University of Agriculture in Poznań,
– 1976: MA in Biology (master's thesis "Phytoplankton of water reservoirs in the area of the future Kotowski Bay", supervisor Professor Izabela Dąmbska).
– 1971-1976: Student at the Faculty of Biology and Earth Sciences, AMU
Employment
– since 2010: Associate Professor in Institute of Environmental Biology, Faculty of Biology, Adam Mickiewicz University in Poznań
– XII.1990 – 2009: Adjunct in Department of Water Protection
– XII.1976 – 1990: Limnologist, senior assistant, adjunct at the Department of Surface Water Utilization and Municipal Planning Institute (former Institute of Environmental Managment) – Branch in Poznań, in 1987-1989 head of the Water Protection Laboratory at the Department of Use and Surface Water Protection.
– IX. 1976 – XII 1976: internship at the Voivodship Enterprise for Public Utilities and Housing (Department of Water Supply and Sewage) in Konin.
Teaching
– Lectures
Hydrobiological methods (coordinator and lecturer)
Microorganisms of water and sediments (coordinator and lecturer)
Drinking water – quality, health aspects (coordinator and lecturer)
New directions and research methods in water ecology (lecturer, Doctoral Studies at the Faculty of Biology, Adam Mickiewicz University)
Hydrobotany (co-teacher)-
– Seminars, classes, workshops and field activities in the above-mentioned modules
– Care for students implementing professional practices and internships in Department of Water Protection
– Bachelor's and master's theses in the field of hydrobiology (phytoplankton, bacterioplankton), protection and assessment of the quality of stagnant and flowing water, ecology of cyanobacteria and algae, interaction within the pelagic microbial loop.
– Supervisor of completed doctoral theses:
1. "Taxonomic diversity and toxicity of freshwater picoplanktonic cyanobacteria", October 2015.
2. "Dynamics of phytoplankton changes in the middle reaches of the river Warta and its impact on water treatment concepts", November 2015.
3. "Anthropogenic impact on bacterioplankton and autotrophic picoplankton in Strzeszyńskie Lake", December 2015
Research projects:
– "Picoplankton cyanobacteria in the pelagial of the lowland reservoir: seasonal changes in morphological diversity and its causes", grant MNiSW NN304 385538 (project manager), 2010-2013.
– "The influence of the city of Poznań on the quality of the River Warta water", inter-university grant No. 51200083 9 (main executor), Poznań 2010.
– "Bacterioplankton research by microscopic and cultured method in the seasonal aspect of water quality and their flow. Validation of methods in relation to the River Warta", inter-university grant No. 51200073 (project manager), Poznań 2009.
– "Food-web structure as a tool of water quality improvement – comparison of temperate and Mediterranean lakes". Executive Program is Bilateral S & T Cooperation between Greece and Poland for years 2006-2007, International grant (executor), 2007.
 Membership
International Association of Theoretical and Applied Limnology – member
Polish Phycological Society – member and member of the audit commission
Polish Hydrobiological Society (PTH) – member, treasurer in the PTH Poznań Branch
European Federation of Phycological Societies (FEPS) – member
Publications: https://www.researchgate.net/profile/Elzbieta_Szelag-Wasielewska